HAV DC INVERTER series
HAV DC Inverter split-system has a high level of energy efficiency, A++, which saves 50% of electricity.
Class of energy efficiency of cooling and heating (A++/A+++)
Function I-Feel - maintaining the temperature at the location of the remote control
Autonomous control and maintenance of a positive temperature in the house (+8°C)
Stable work in the range of 198-264V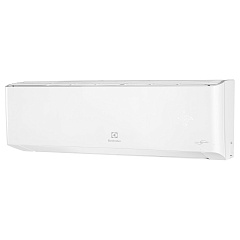 HVI DC INVERTER series
The highest efficiency and versatility are the undeniable advantages of Electrolux heat pumps. The device is capable of cooling and heating the room in the temperature range outside the window from +54 to -30˚С. HVI Super DC Inverters produce a minimum of noise – only 22 dB, you can go about your business and relax without paying any attention to the air conditioner.
High efficiency heating -30°C
Low noise level of only 22 dB
Class of energy efficiency of cooling and heating (A+++/A+++)
Memory of blinds position