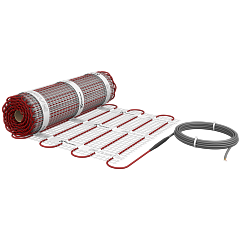 EEFM series
EEFM series — classic and technological mats on a self-a ive textile backing. A thin two-core cable is firmly woven into the base of the mat, which prevents it from pulling off and shifting.
Laying without screed
Innovative textile base is perfectly distributed and fixed on the floor surface
Self-a ive surface eliminates additional operations for attaching the mat to the floor
Super-strong aramid core improves cable stability and eliminates damage during installation
EEM series
In the EEM series, a thin two-core heating cable is securely fixed in a modern textile base, which perfectly absorbs the tile a ive solution, forming a single monolithic structure without air bubbles.
Laying without screed
Single-sided connection greatly simplifies the installation of a warm floor
Innovative textile base is perfectly distributed and fixed on the floor surface
Comfortable heating 150W/m²